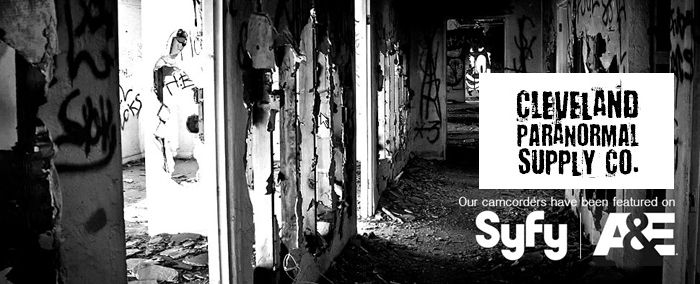 Cleveland Paranormal Supply Inc.
World's only 1080p camcorder that switches to infrared or Full Spectrum mode with a push of a button! No external filters needed!
This professionally modified 1080p HD Camcorder can be used as a regular camcorder, then turn on the built-in infrared light and switch into "IR MODE" similar to Sony NightShot models. However, our custom firmwares allow this camera to go one step further than any other camcorder available today. This camcorder also has a "FULL SPECTRUM MODE" that enables sensitivity to Ultraviolet, Visible, and Infrared light. Three seperate modes of operation: Regular Camcorder, IR Mode, and Full Spectrum Mode.
The Built-in Infrared LED allows for approx. 5 feet of night vision that is good for very small rooms. An external infrared or full spectrum light is always recommended.
Features:
• 1080p (1920px X 1080px) High Definition video capture (30 fps)
• Ultra High Quality 60 frames per second 720p HD mode
• Built-in Infrared Light (5 feet distance)
• Takes JPEG still pictures, up to 16MP image resolution
• Operates on rechargeable Fuji NP-120 Battery (included)
• Ports: HDMI (1) SDHC Card (1) Micro SD Card (1) USB 2.0 (1)
• Wide 3" Touch Screen LCD
• Industry standard H.264 - AVI recording format
• Mount on bottom of unit for tripod or attachable accessories
• Supports up to 64GB (Max 32gb in each SD Card slot)
• Front facing microphone
• 8x zoom
• 34MM Filter thread to accept external filters or wide angle lenses.
• Can work from external power only for static night vision use by using a standard cell phone USB charger (not included) and the included USB cord.
• INCLUDES A PHANTOM IR LIGHT AND EXTENSION LIGHT BAR for a complete nightvision package. ($63.99 Value)
Included Accessories:
• USB / Audio Video cable
• HDMI cable
• Lens cover
• Rechargeable NP-120 battery (1700mah)
• Battery charger / cable
• Wireless remote control
• User manual and CD software
• Padded camera pouch